How to Secure Your Success with Tech Talent in Uncertain Times
For job seekers in the IT world, among the consistent demand for tech workers, companies are now looking to focus on their core competencies and avoid adding to headcounts that only create bloat and have minimal impact on revenue. Skills-based hiring has become a way to diversify and ensure teams are hiring for the right skillsets, especially since almost half of hiring managers believe finding qualified candidates is their biggest challenge.
When it comes to the work that is the basis for many tech companies, there is still a tech talent shortage at all levels. In fact, the ratio of tech job postings to closures is better than in any other US industry. Additionally, a recent NACE study revealed that 100% of companies surveyed will be hiring in 2023, with 89% saying they will be hiring both interns and full-time employees.
There are departments that have more growth potential than others, however. While certain tech sectors have somewhat plateaued when it comes to growth and salary gains, others are primed for further surges in the future. The US Bureau of Labor Statistics is predicting the need for software engineers will increase by 22% by 2030. This is in line with a recent survey of recruiters asking which positions will be the biggest challenge to hire. Full Stack and Back End Developers/Engineers topped the list, with Front End Developers/Engineers also in the top 5.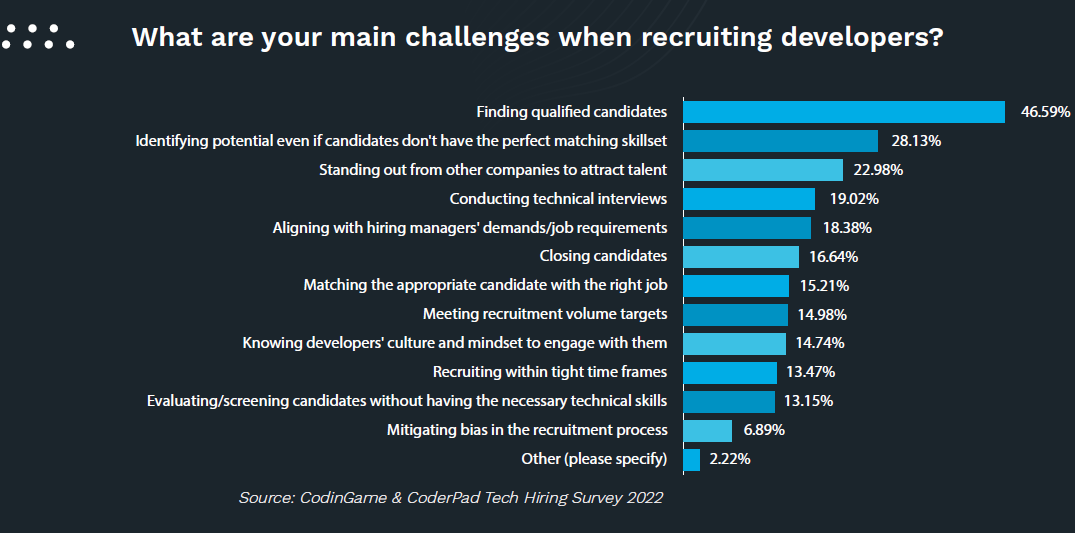 While the optimism at the start of 2022 has waned as the year progressed, businesses should still look for growth opportunities but be smarter with their processes. Throughout the industry, hiring managers and company leaders are saying that the demand for experienced tech workers is still at an all-time high.
Not only are IT professionals aware of some of the highest market demands, but many want to upskill in areas that are facing extreme demand and lack of supply when it comes to talent.
Businesses that relied heavily on contract work during the pandemic should prepare for a shortage of inherited knowledge inside the company, especially as the Great Resignation trend continues through the end of 2022. While contracting should be an important strategy within a company's talent pipeline, having and keeping experienced workers who have been instrumental in building and growing key parts of a business should be retained, if possible.
When reviewing the big picture, tech employers should focus on attempting to future-proof a business. 42% of companies need to update their legacy tech stack according to a recent survey. Additionally, before the hiring process begins, hiring managers should go into detail on the skills that are going to be needed for the position.
While interviewing hiring managers across North America, some say they've been conducting 15, 20, and even up to 29 first-round interviews trying to find the right candidate to join their team. By narrowing down to the absolutely necessary skills that are required for the job, the initial search for talent will become easier.