Motion Recruitment Debuts on SIA's Largest IT Staffing Firms List, Ranking in the Top 15
Report from Staffing Industry Analysts highlights 225 companies, 62 of which specialize in IT, with U.S. staffing revenue of $100 million or more in 2021
Motion Recruitment is thrilled to announce that we have been ranked in the Top 15 of the Staffing Industry Analysts (SIA) list of 2022's Largest IT Staffing Firms. This is Motion's first time appearing on this competitive annual list, an achievement that we would not have accomplished without our newest partnership with MATRIX.
"We're excited to be ranked in the Top 15 of Largest IT Staffing Firms our first time on this list. What really makes this special is the drive, innovation and teamwork that has been behind our incredible collective growth across both Motion and MATRIX," said Matt Milano, President of Motion Recruitment.
Motion is proud to add this recognition to our other 2022 distinctions, such as the Agile One's Innovator Award for Supplier Excellence in 2022.
Read the full press release on PR Newswire here.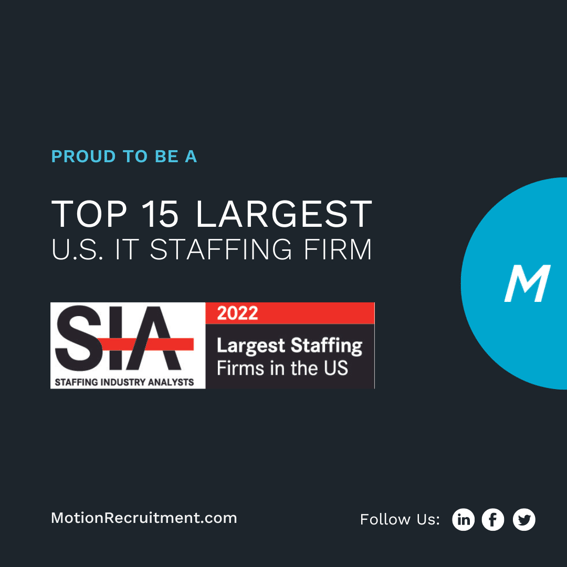 Press contact:
Lindsay Lewis,
Director of Brand & Demand Gen
[email protected]