What IT Professionals Want in a Job During Uncertain Times
With so many open roles, tech workers across North America are continuing to move to new positions and companies, with 72% of tech workers saying they have considered changing jobs, and 52% considering leaving their job at least once per month.With the number one reason to move to a new position being an ability to make more money, combined with the very real examples of some individuals seeing over 25% increases (or higher) in salaries when changing companies, it's clear why so many technologists continue to be on the move.
A related aspect of the steady supply of tech workers heading to new opportunities is the normalizing of remote work. A big reason for this is that in a literal sense, it is simply easier to interview for job opportunities in a remote world. With a virtual interview process, it is easier for candidates to pursue new opportunities without having to take PTO or raise suspicion with their current manager.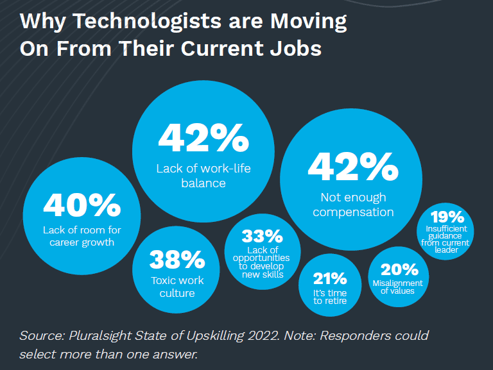 Regardless of any economic red flags and normalization of the job market, expectations from tech workers remain high as more than half believe that candidates hold more power; emboldened by wanting a better fit and higher paying salaries, candidates are still willing to job search – though practical benefits have replaced stock and equity when it comes to what candidates would trade in a higher salary for – unlike 2021 when stock and equity was the only one job seekers said they would consider.
Whether you want to call it The Great Resignation, The Great Reshuffling, or something else, in the tech industry in 2022 and beyond, if you have the skills and want a job, finding one is easier compared to other industries in the United States. For more insights, download Motion's Tech Salary Guide below: