Why Companies Are Investing in Diversity within Tech
In 2019, the U.S. Equal Employment Opportunity Commission found that Black and Latinx professionals make up 15% of the United States tech workforce while being 31% of the total population.
This is in line with Dell's latest diversity report, showing that 15.4% of their workforce are in those two groups. Many major tech companies lag behind even those numbers, with Facebook's latest diversity report showing those demographics only holding 11.6% of positions inside the U.S.
However, with companies across North America investing substantial amounts of time and money in overcoming the diversity gap in tech, many in the tech industry are striving to improve representation and diversity, equity & inclusion (DE&I) efforts overall.
Read More: How to Attract and Hire Diverse Talent in Tech
For those interested in learning how Data and AI can help achieve your company's DE&I goals, Motion Recruitment's community platform Tech in Motion is holding a virtual event where leaders from across tech discuss steps organizations must take to build a workplace strategy that prioritizes DEI at every level.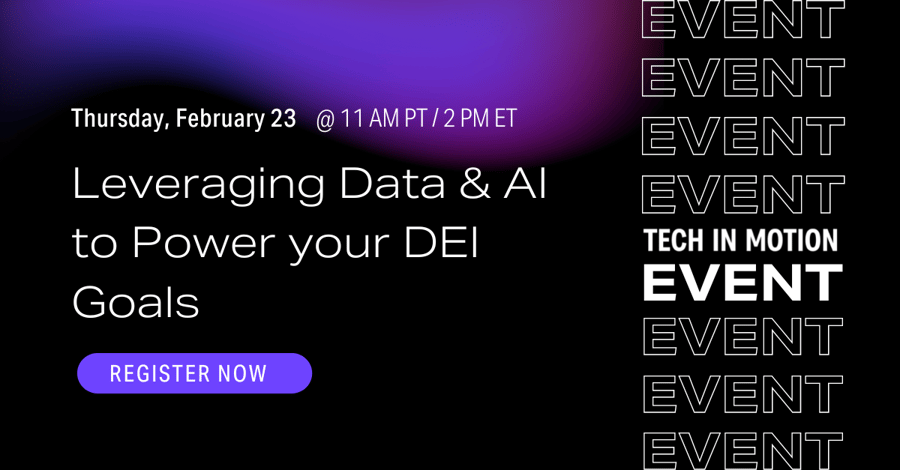 Additionally, check out a previously recorded webinar from Tech in Motion, How Top Tech Companies are Addressing DEI. Expert guests from Linkedin, Google and Re:work shared their insights on practices to create a culture of equity and inclusion, building leadership support for true DE&I priorities, steps to ensure effectiveness and measuring the success of your DEI initiatives, plus many others.
Many U.S. companies see the importance of DE&I initiatives, and while still figuring out the best ways to tackle them, are putting money and time into programs for long-term change. A study conducted by United Minds recently showed that DE&I leaders in the United States reported increased budgets, with a 26% increase in budgets over $50 million, and a 24% increase between $10 million and $49.9 million.
Benefits of DE&I Program Development
The uptick in spending on DE&I programs helps drive benefits for businesses as well as minorities. Diverse representation in any organization introduces new skills, talents, ideas, experiences, and perspectives to the company, enhancing overall productivity and innovation.
Research from Gartner shows that average employee performance in diverse organizations is 12% higher than employee performance in non-diverse organizations. In addition, recent studies have shown that teams with highly inclusive leaders have direct reports with 90% higher team innovation, 50% higher team performance, and 140% higher team engagement compared to teams with low inclusive leadership skills.

When it comes to straight dollars and cents, having diverse and inclusive teams has been shown to improve a company's profitability. A McKinsey study shows that top-quartile companies in ethnic and cultural diversity have consistently outperformed those in the fourth quartile, with up to a 36% difference between the two.
Employee Demand for Commitment to Diversity & Inclusion
In addition, as noted in Motion's 2023 Tech Salary Guide, workers in the tech industry, especially millennials and members of Gen Z, are looking for companies that align with their values, and that includes fostering an environment that is more inclusive. With 70% of job seekers wanting to work for a company that demonstrates a commitment to diversity and inclusion, having an environment that is welcoming can become part of a business's recruiting strategy.
Meanwhile, companies that don't prioritize DE&I programs risk exacerbating the problem of The Great Resignation, with 50% of 18-28 year old tech workers leaving or wanting to leave a tech job because the company culture made them feel uncomfortable.
Eliminating the Gap with Organizations Already Diversifying Tech
In the past decade, programs across North America have been founded, aiming to eliminate the tech diversity gap. These organizations, some of which can be found in a previous article, 6 Organizations Diversifying the Tech Industry, work to help candidates learn the needed skills to thrive and team with businesses that can assist them in best practices and find previously underrepresented talent.
As companies are seeing, increasing diversity in their workforce is not only a socially positive endeavor but can improve employee morale, efficiency and can boost a company's profits compared to businesses that choose to stay with an antiquated way of hiring talent. For those looking to impact DE&I at their own companies, taking the first or next step forward with processes or programs can be key to growth.
Working in the mid-to-senior level IT job industry for over 30 years, Motion Recruitment has set itself apart in the technology space by having our recruiters each specialize in a specific department of the tech industry, allowing them to become experts in a particular section of the IT workforce. With offices in 16 cities across the United States and Canada, Motion can help companies and candidates take the next step in the tech market. Contact us now.