Combating the Technical Talent Shortage in Today's Market
Whether you are building a team from scratch, filling a vacant seat, or hiring a consultant for that new project, the biggest challenge is finding qualified talent.
No matter the industry, hiring skilled workers today is difficult. Unemployment has hovered at 4% nationally for some time now; in specific sectors, such as IT (computer programmers/information systems), unemployment is as low as 1-2%.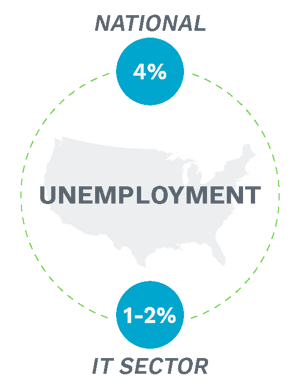 In 2010, the hiring landscape was drastically different. Qualified talent was readily available, so employers had a large pool to draw from for every hire. Following the Great Recession, companies adopted intensive hiring processes designed to arduously vet each applicant. Businesses were bearish on the market, and did not want to make a costly hiring mistake. This led to long interview practices, multiple screening techniques and ultimately, indecision.
Nearly a decade later, many companies have maintained the same extensive hiring practices despite today's modern marketplace. But in order to make a successful hire for a growing team, or bring on that consultant for your software application, hiring practices holistically need to evolve.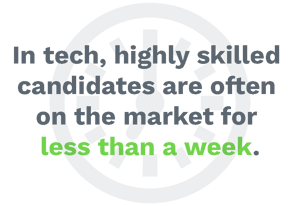 In tech, highly-skilled candidates are often on the market for less than a week. With this in mind, companies can no longer rely on the hiring "luxuries" of the past. Employ these tactics to improve how your hiring team attracts and on-boards top talent in today's fast-paced market.
Hire for Aptitude Over Experience
Be open to hiring candidates who have less than 100% of the required skills for your role, but possess the aptitude and attitude to attain them.
Yes, this may seem counter-intuitive, but the long-term benefits can be invaluable. Not only does it take longer to find the candidate that checks off all the boxes on the job requirements, but the 'ideal candidate' is more likely to grow bored quickly and start looking for that next challenge sooner, putting you in the potential position of needing to re-fill that role again.
Alternatively, hiring someone with only 70-80% of the required skills gives them room to grow into the role. Consider hiring them as a contractor (a six-month contract is the industry average). Once they have proven their value, you can then convert them with confidence as a full-time employee of your company.
Most importantly, these less-experienced candidates will want to accept your offer. The odds of having them accept and start with your company will increase drastically.
With time-to-fill decreasing, and increased engagement from your new hire, your team will be moving in the right direction in no time.
Move Quickly
The biggest advantage you can give yourself in this market is speed. If you find a contractor or candidate you like and can do the job -- hire them. Waiting days or weeks to make a formal offer can hinder the candidate's experience, which decreases the likelihood that they accept your position.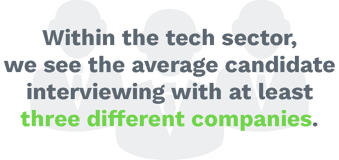 Within the tech sector, the average candidate interviews with at least three companies. Being decisive, and flexible with your requirements, and moving quickly will help you attract the mission-critical talent you need.
Shorten your process by skipping the phone screen. Instead, line up 3-5 quality applicants to come in within a 2-3 hour period and do speed-round interviews of 20 minutes each. Not only will you get a better sense for their qualifications and culture fit, but you will be able to better sell your opportunity.
Can't skip the phone screen? If you like the candidate while speaking with them, schedule that in-person interview with them live on the phone. We suggest having that next meeting happen within 48 hours of the first call.
Partner with Trusted Third-Party Vendors
Whether you're considering working with a MSP provider or partnering with a staffing firm, make sure to carefully vet your third-party vendors. Look for vendors who are specialized and localized. Hiring for a Software Engineer in Washington, D.C. is very different than hiring for one in San Francisco. You will want to find someone who is well-versed in your region, industry, and specialty.
Not only will they understand the local market better, but they will be able to use their network of contacts to give you the competitive edge you hired them for.
You'll also want to consider your vendors' sourcing capabilities. In a market where actively-interviewing talent is basically non-existent, the suppliers who focus on and invest in sourcing technology and best practices will be your most reliable partner.
These vendors likely to have extensive pipelines of both active and passive candidates Local vendors should be meeting with each candidate in person and build a strong relationship, which they can harness to ensure the candidate accepts your offer.
Look at their track records of percentage of offers accepted and contract assignments completed. These metrics will give you a good indication of whether the vendor is one you want to partner with.
Closing Thoughts
The competition for talent, coupled with increasing business demands, make finding the right contractor or employee a daunting task. Before implementing these tips, do an audit of how you hire and who is involved in the process.
Changes to hiring, specifically within the enterprise environment, can be difficult. Get the right stakeholders or business leaders involved and committed to helping change your hiring practices. Look for talent with ability, be prepared to move quickly, and be selective with your vendor partnerships to stay ahead of your competition.
About the Authors
James Vallone is the Vice President of IT Staffing Solutions at Motion Recruitment Partners, where he has more than 16 years of staffing and recruiting expertise.
Nicholas Campo is the Regional Director of IT Staffing Solutions at Motion Recruitment Partners. He has more than 10 years of industry experience providing innovative solutions to hiring.
Note: this was originally published on 8/27/2018 and updated to reflect the most accurate information as of this year.