4 Reasons Why IT Contracting is in High Demand
This blog was originally published on 07/18/17 and has been updated with more current information.
In today's technology driven world, change happens fast. We've come to expect it. If you're someone who thrives on exploring solutions to new challenges, why should your career path be any different? Over the past five years contracting has seen a steady rise in popularity among tech companies because of the opportunities it offers both job seekers and employers.
Contracting Offers Unique & Flexible Job Opportunities
The technology industry is currently seeing its lowest ever unemployment rate, opening the door to full-time and contract employees alike. More and more candidates are turning to contracting to build their resumes, work with Fortune 500 companies, and help with their work life balance. Jennifer Grasz at Career Builder has this to say about the future of contracting, "The demand for temporary labor will continue to be strong as employers strive to have more flexibility in their staff levels. 51% of employers plan to hire temporary or contract workers in 2017, an increase from 47% last year. 63% of employers plan to transition some temporary or contract workers into permanent roles in 2017, up from 58% last year."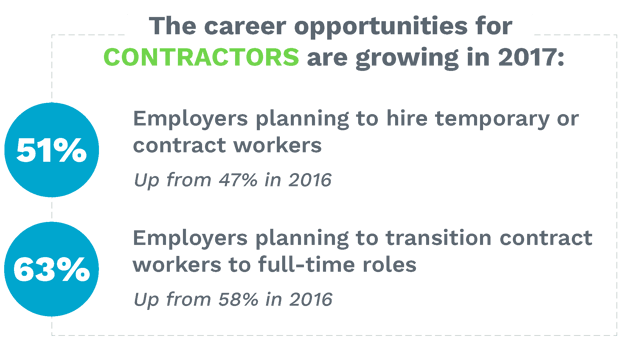 You Can Earn More as a Contractor
One of the biggest misconceptions about tech contract jobs is they pay less on average than full-time positions. While it's true that full-time employees make a yearly salary and contractors get paid by the hour, there are many other factors to take into consideration when calculating your potential earnings. For instance, if you work more than 40 hours in a week as a full-time employee, you won't be paid for your extra effort while contractors get paid 1.5x their hourly wage for overtime. This can have a huge impact, especially in the tech industry where employees often work extended hours.
Enjoy Benefits as Contractor
Surprise! The biggest misconception about tech contracting is that you won't receive benefits from your employer. The reality is, as a contractor with Jobspring Partners, you are eligible to receive benefits that kick in after thirty days of employment. You accrue sick days beginning on day one of employment. Want to start investing for your retirement? You are eligible for the Motion Recruitment 401K and will be automatically enrolled after the first 6 months of the contract assignment. Full health coverage including dental and vision insurance kicks in after 30 days of your start date. In addition, there is an option to use a Health savings account to put away money for your health plan every month that is pre-taxed. Beyond these basic benefits, you can also enjoy commuter benefits you can use for parking, public transit, metro, or bus.
Use Contracting to Improve your Tech Stack
Contracting gives engineers the opportunity to focus on newer technologies, increasing their value as a subject matter experts in niche tech fields and opening themselves up to more lucrative opportunities in the future. It's a great opportunity to get your foot in the door with tech giants who are only looking to hire contractors. Employers love seeing candidates with diverse backgrounds working on unique projects. We like to call them "unicorns" in our industry.
What Employers Gain from Contracting
The contracting model gives qualified candidates the freedom to develop their skill sets while being exposed to many different projects, technologies and work environments. But it also offers unforeseen benefits to employers looking for qualified talent. It gives them the opportunity to have "try-outs" for contractors hoping to find a permanent position and allows them to bring in highly specialized engineers on a project-basis they wouldn't ordinarily be able to afford full-time.
For all these reasons, contracting has never been a more viable option in the tech industry than it is today. There are many misconceptions about contracting in the tech industry. That's why it's important to do your own research, weighing the pros and cons of contracting versus full-time. The results could surprise you!