DevOps Engineer Salary for 2024
DevOps Engineer Salary Analysis

Better understand the DevOps Engineer job market with Motion Recruitment's 2024 Tech Salary Guide.
On the search for your next role or looking to hire for DevOps Engineering positions, Motion's Tech Salary Guide offers trends and insights from our team of tech industry experts along with salary information for over 120 specific job titles.
DevOps Engineer Salary and Tech Market Insights for 2024
Tech Talent Continues to be in High Demand,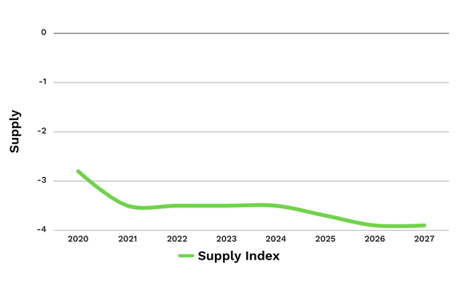 Even with layoffs at the start of the year, businesses in the United States are still constantly looking for top DevOps engineer talent. In the next five years, DevOps engineer demand is projected to grow by 21%. Because of this increasing need, there is now a lack of workers with the necessary DevOps engineering skills companies need.
DevOps Engineer Salaries Begin to Stagnate.
With the continued economic uncertainty, DevOps Engineer salary growth slowed throughout North America. With only a 0.8% year-over-year increase in salary in 2023, DevOps Engineers are below the overall tech industry average of 2%. However, the low unemployment rate of DevOps workers shows that the industry should further grow in the future.
DevOps Engineer Market Research
DevOps Engineer Salary FAQs
What is the average DevOps Engineer Salary in 2024?
The average National DevOps Engineer salary in 2024 is $116,914. This number has large variances from city to city in the United States in Canada, with places like San Francisco and Seattle seeing over 25% increases in compensation for DevOps Engineers. In contrast, other cities like Phoenix and Charlotte, while seeing growth, still trail the national averages.
How much did DevOps Salaries change in 2023?
DevOps Engineer salaries increased on average by .8% year-over-year, which is below the IT industry average of 2% in 2024. The reason for this downward shift in salary growth inside tech is mainly companies making an adjustment from the rapid hiring markets of 2021 and 2022 for tech workers and DevOps engineers. With a low supply of tech talent and companies hiring at a breakneck pace in the early 2020s, many salaries were seeing double-digit increases YOY. While there still is a tech talent shortage in many areas, businesses are being slightly more cautious in their spending, leading to lower DevOps Engineer salaries.
DevOps Trends and Expert Advice
"DevOps hiring managers need to truly understand the functions of the roles they are hiring for. Look beyond job titles on resumes and see what skill sets candidates possess. Additionally, going beyond a competitive salary and offering things like a great company culture will help attract top talent."

Matt Najera
-
Vice President, Staffing Solutions, Motion Recruitment

VARIANCES
Tech-Specific Salaries
Download our tech-specific IT Salary Guides below.